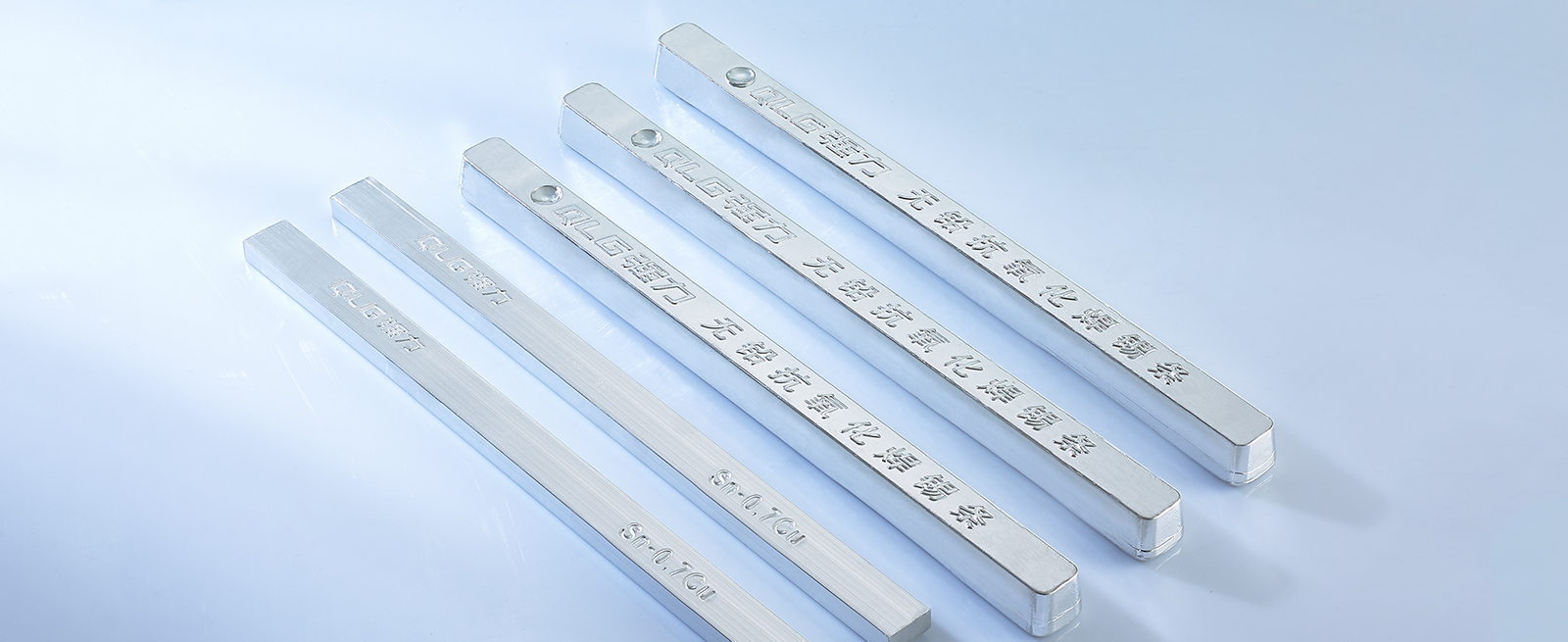 Lead-free solder bar and variety
Integrating researching and practical experience in producing solder bars for many years, combining environment protection development direction of modern electronic
industry and demands of reliability product, the company produces lead-free tin bars with high purity metal raw material. Under strict quality control, the company
effectively control the impurity content of oxidizing metal and nonmetal, and the tin bar shows smooth surface, quite high purity, fine flowing after fusing, wonderful
wettability, polished soldering spot, little oxidizing rubbish and so on. It is suitable for wave welding and hand welding that is required high quality, Thousand is land
continues to research and develop, in order to supply lead-free solder bar of kinds of alloy scales and types for customers.
• Lead-free anti-oxidation tin bar
• Lead-free tin bar of high temperature
• Lead-free tin bar of low temperature
• Lead-free tin bar with silver
• Tin bars for other special applications
Guide points of lead-free welding
In order that you can smoothly perform lead-free process, QLG supplies some key points about using the lead-free solder before you use the lead- free assembly,
we wish these key points can be helpful for your production. wish these key points can be helpful for your production:
• Please choose Sn/Ag/Cu, Sn/Cu, Sn/Ag alloys, because these alloys are the best eutectic alloy of lead-free solders, and can greatly withstand the lead interfusion,even, they are more suitable for step-by-step lead- free processing of whole material.
• Check the temperature-control stability of lead-free equipment, to make sure the lowest temperature difference during welding.
• Improve wetting ability of lead-free solder through taking use of die plate tappingequipment, nitrogen welding environment and higher active soft solder.
• After welding, please pay attention to checking the electric performance, stressof butt-welding material, thermal fatigue, creeping and damage for mechanical vibration.
• Make sure the material alloy and thermal resistance are matching with solder.

Variety, supplying form and feature of qiangli solder alloy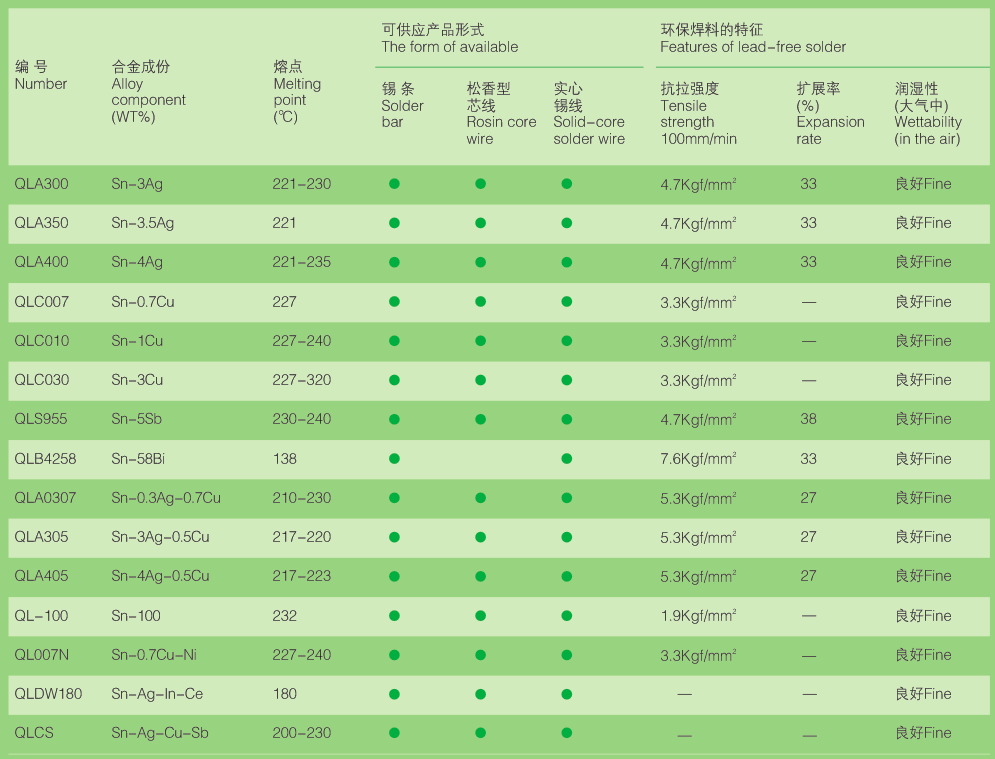 Note:
Green ● in the table means the available products are produced by us. We recommend the ideal lead-free solder QLC007/QLA305 to you.
Mechanical property of lead-free Solder

Soldered joint for electronic assembling, which takes effect on electrical connecting (transmit electrical signal), also on mechanical connecting, hence, it fully proves that the solder alloy must contain enough-mechanical property.
Consult: most of lead-free solders elastic modulus, tensile strength, anti-creep property are higher than or equal to those of Sn-Pb solder, however, the elon-gation rate (namely, toughness) is quite low.
Select alloy for lead-free Solder

Up to now, the international standard and national standard on lead-free solder haven't been formed, but kinds of alloys having been developed at home and abroad are confused to manufacturers of elec-ronic products, hence the following chart supplied by us is the recent questionnaire result of the world main manufacturers of main electronic products, their selections can be taken as reference to you.